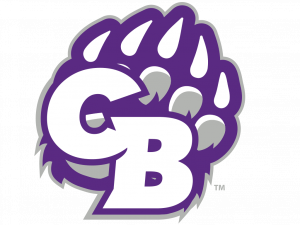 Dual Enrollment
CBHS Student Services has a step-by-step process for applying for dual enrollment. Mrs. Purdy is happy to help if you have questions or get stuck on a step. beth.purdy@hallco.org
Please note: It is the student's responsibility to make sure all applications, forms, and required documents are submitted by the college's deadline. Please be aware of deadlines and give yourself plenty of time.
---
Lanier Technical College
LTC Application Info
Deadline – June 30
Meet with your high school counselor/home school official to determine if the Dual Enrollment program is the right fit for you and to ensure that you will meet the eligibility requirements and timelines set by your school district and/or Lanier Technical College.
Apply Online here and select "Dual Enrollment" for Application Type.

Select Interdisciplinary Studiesas your program of study if you are interested in taking core classes such as Math, English, History, to satisfy your high school graduation requirements.
Select the appropriate certificateprogram if you know that you would like to participate in a specific pathway of study offered at Lanier Technical College.
*Please do not provide or send an email from your high school student email account to Lanier Technical College. Emails between high school student email accounts and Lanier Technical College may not be received. *
Request your high school transcriptthrough GAfutures.org or as required by your high school or home study.
Provide College Placement Scores which may include one or more of the following:

HOPE GPA or PSAT: Request for your high school counselor to submit verification of your HOPE GPA of a 2.60 or higher after completion of 10thgrade or your PSAT scores.
SAT, ACT, or AP: Send official copies of your SAT or ACT scores directly from the testing agency. If you complete an AP Exam, you must request the official AP scores from the testing agency. (SAT Code:7289 orACT code: 7096)
Schedule an ACCUPLACER Testing Session. Students are allowed two attempts per academic year (Fall, Spring, Summer) to make the minimum score requirement and must complete a 30 day wait period between each testing session.

Submit proof of lawful presence and verification of in-state residency if you plan to self-pay for course(s) taken or utilize HOPE Grant when eligible. Please review our Residency Policy for more information.
Check your admission status online here.It will require the login ID and PIN created when you initially applied. The admissions process may take several weeks, and your patience is appreciated.
Check your email. Lanier Technical College will send a variety of emails to applicants including notification of Acceptance, information on next steps, and the opportunity to register for classes!
**Please add dualenrollment@laniertech.edu to the safe sender list in your personal email account so communication and information arrives without potential issue or delay!**
Early College at Jones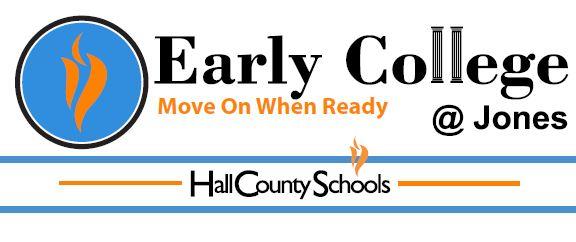 Early College at Jones offers classes through UNG, LTC, and Brenau on a Hall County campus
Students must meet the admissions requirements of their desired college and complete the application steps listed above
Early College candidates must also complete the EC application  
See FAQs below for differences between tradition dual enrollment vs. Early College and more info or visit Early College's website
y-Early College 2018 DE Presentation (1)

Lanier Charter and Career Academy
Frequently Asked Questions
Dual Enrollment Frequently Asked Questions
What is Dual Enrollment?


Allows high school students to earn college credit while working on high school diploma

Who qualifies for Dual Enrollment?


High school students grades 10-12 are eligible to participate.




Students must meet admissions criteria for the college or post-secondary institution they wish to attend

What is the cost for participation in the Dual Enrollment program?


Dual Enrollment funds covers tuition, mandatory fees, and required textbooks.




Some course related fees such as lab fee or course specific supplies are not covered

What courses can Dual Enrollment students take?


Approved classes may include degree level or non-degree level courses in the five main academic areas (English, math, science, social studies, and modern languages), as well as electives, career, technical, and agricultural offerings

Will grades earned in Dual Enrollment courses impact my high school academic record?
YES!! Grades will be reflected on both your high school and college transcript.
What responsibilities does a Dual Enrollment student have?


Dual Enrollment students are responsible for their academic success. This includes, but not limited to:

​Attending and being on time for class

Participating in class discussions

Submitting assignments on time
Professors do not communicate or check in with counselors or parents
What are the benefits for a student participating in the Dual Enrollment program?

Introduces students to college-level coursework

Earning college credits while still in high school may enable students to possibly earn an associate degree or certificate

Helps students adjust to certain aspects of the college experience so the transition from high school to college may be easier

Students may be able to take classes that are not offered at Johnson

What are some things to consider with Dual Enrollment?

​Student's level of maturity and responsibility

Rigor (some basic college courses might actually be less rigorous than AP/IB courses)

High School experience

Failing or withdrawing from courses may mean the student doesn't graduate on time or could put the student on academic probation at the college level dual enrollment courses start your college transcript and remain on your permanent record!
Early College at Jones
What is the Hall County Early College @ Jones?
​Hall County Schools is partnering with Lanier Technical College (LTC), the University of North Georgia (UNG), and Brenau University to provide unique access to Georgia's Dual Enrollment program
How does it work?

LTC, UNG, and Brenau professors will teach courses on the Jones Early College campus and transportation will be provided for all students during the school day

All Early College students will participate in academic support that includes tutoring, career guidance, and personalized planning to meet college and career goals

​What are the major differences between Early College @ Jones and the traditional Dual Enrollment at LTC, UNG, or Brenau?


The major differences are that EC students are supported with transportation, onsite Hall County support personnel, and required attendance during their nonscheduled LTC, UNG, or Brenau class time

What do students do at EC when they don't have class?


Students will come to Early College on days they do not have scheduled classes. These days will be spent working on assignments, getting class assistance, and experiencing career preparation opportunities

What classes can students take at EC?
Students can take core academics as well as electives and certificate level classes.  ​
**Class offerings may change from semester-to-semester
Can ANY Hall County high school student apply?


Yes!  Any rising 10th-12th grade student in Hall County is eligible to apply.  
Contact Information
Beth Purdy, Graduation Coach    beth.purdy@hallco.org